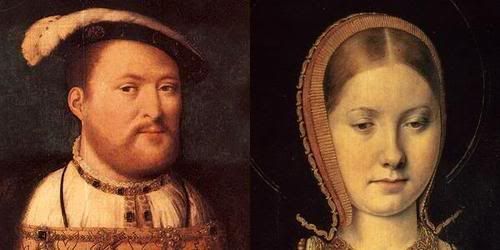 July seems to be one of the more monumental months if you follow Tudor history. Some wonderful things occured, some not so wonderful.
On July 11th, 1531, Henry made a move that would sever his relationship with Catherine of Aragon permanently.... at least in his eyes.
In the wee hours of the morning, King Henry had the court packed up in all haste and headed to Woodstock for a hunting trip. He left Catherine and their daughter, Mary, all alone at the now empty apartments at Windsor. Even by today's more jaded standards, that is a very devastating blow.
It truly makes me marvel at the sheer strength and dignity with which Catherine carried herself, even in the face of the most cruel treatment of Henry. Upon the realization that he had left her, she wrote him a letter expressing her regret to him that she hadn't been able to say goodbye.
It was the last time that Catherine ever saw Henry. When she died, she wrote him a most poignant letter, which can be found here:
http://englishhistory.net/tudor/letter5.html
Sad but true.....Catherine loved Henry until the very end.
****Image found via Google Image search****