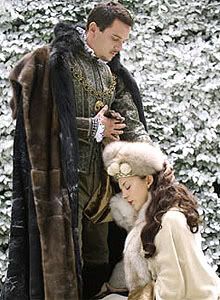 You will often notice that I like to suggest or recommend other fellow Tudors based websites, pages and blogs. I think it's good to help other sites get exposure, and I also love to share information with fellow Tudors fans! Sort of like a public service. :)
So..... If you haven't found it already, you MUST check out this link:
http://tudorswiki.sho.com/
For anyone who can't get enough of
Showtime
's "The Tudors," it's truly one of the best sites EVER!!!
It goes BEYOND your typical fan site. It is a Wiki, so other fans have contributed and you are welcome to add to it if you like, which is a pretty nice feature. I use it as a resource quite a bit to find images for my posts and a lot of the information is extremely helpful. The site has everything from info on the cast and characters, to a list of every episode, and much, much more!
The site has so much information, not only about the TV series, but about the Tudor Dynasty in general, which in my opinion, is an added bonus!