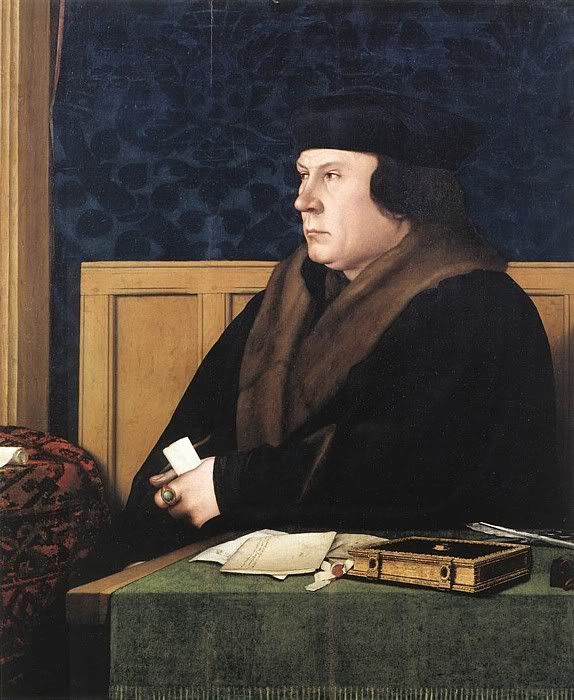 On this day, the 28th of July, in 1540,
Thomas Cromwell
was executed. While researching Cromwell's actual execution, I found two differing stories. One story says that he was executed "in private on Tower Green," found here:
http://englishhistory.net/tudor/citizens/cromwell.html
.
and another story claims that he was executed publicly on
Tower Hill
. I found this story here:
http://www.castles.me.uk/executions-beheading-tower-of-london.htm
.
Of everything I have read, all can agree that Cromwell's execution was not an easy one, having an inexperienced executioner, a mere teenager doing the job. It is rumored that Henry VIII ordered this boy for the execution on purpose, so as to make Cromwell suffer more than necessary, however this has never been proven.
There were also rumors, as you can see on Showtime's "
The Tudors
" that the executioner was extremely hung over or drunk and therefore botched the execution. That is entirely made up and not an historical fact. But, you can't blame Michael Hirst for jazzing things up a bit in the name of entertainment, right?
So, what exactly happened on this day? How did Cromwell's execution actually take place? Here is what I can gather from my findings:
Cromwell's fall was swift; his enemies wasted no time ensuring he would never leave the Tower, "finding" additional evidence that he was a treasonous heretic and putting it before the King. It is said that Henry was so enraged, he swore that Cromwell's name would be abolished forever.
Cromwell wrote two letters to
King Henry VIII
, very desperate and pleading for the King's mercy. Poor Cromwell. Someone should have given him the memo that Henry was fresh out of mercy. *Morbid grin* Only one of these letters survived and I found an excerpt from the one surviving, tattered letter:
'God is God and knoweth both [my faithfulness] towards your Majesty and your realm.....how dear your person was, is, and ever hath [been]....therefore, most gracious Prince, I humbly submit me to your [Grace] and ask of God mercy for my sins, and of your Highness mercy and pardon for mine offences as to your high wisdom shall seem most convenient. And, Sir, that ever I have deceived you in any of your treasure, surely I have [not], and that God Almighty best knoweth......Sir, upon [my kne]es I most humbly beseech your most gracious Majesty [to be goo]d and gracious lord to my poor son, the good and virtu[ous lady his] wife, and their poor children...'
(Excerpt found at the AWESOME website, "The Tudors Wiki", found here:
http://tudorswiki.sho.com/page/Thomas+Cromwell++-+Historical+Profile
.)
Cromwell's execution was indeed botched, due to the executioner being but a young teenager and inexperienced as well. Cromwell was struck three times before he was finally killed.
After the execution, his head was boiled and put on a spike on London Bridge facing away from the city of London.
It wasn't long before Henry was lamenting his trusted servant's death, blaming his council for falsely accusing Cromwell and leading him astray with their accusations. Well, it wouldn't be King Henry if he wasn't blaming someone else for his mistakes, right?
My thoughts on Cromwell.... are pretty mixed. I am a very avid
Anne Boleyn
fan, so part of me feels like he got exactly what was coming to him. He was reaching too high, his plans for Reform were NOT the same as Henry's, and he was becoming more and more greedy. The only way to go once you reach the top is down, as most people close to Henry VIII soon found out for themselves. Cromwell was no exception.
I believe he could have saved himself, had he not gotten the King mixed up in the Anne of Cleves "debacle". I know he was trying to bring a powerful ally to England, however I do believe it was mostly selfish reasons that drove him to make the match for Henry. He mislead Henry about quite a few other things, especially during the
Pilgrimage of Grace
, and I think it was his short-sighted hunger for power and wealth that lead him to his ultimate fate.
I have to hand it to Michael Hirst, when Cromwell was executed on "The Tudors", I actually felt a bit sorry for him and was almost sad to see him go. He always has a way of making you feel sorry for the "villains" at the last moment.
What do you think? Do you think Thomas Cromwell was merely the King's good servant, or did he get what he deserved? Was he merely doing what he needed to do to survive in Tudor times, or was he being entirely too high handed in matters of government?
***Image found here:
http://englishhistory.net/tudor/citizens/cromwell.htm