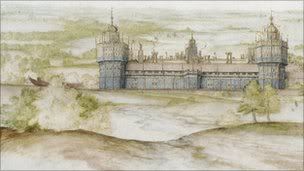 (Image of watercolor painting of Nonsuch courtesy of
BBC News
)
I will admit rather sheepishly that when I first saw Henry talk about his
Nonsuch Palace
with his "Fool" in an episode of Season 3 of The Tudors on Showtime, I thought this was something Michael Hirst was merely adding for entertainment. I was still learning, reading, researching things on
King Henry VIII
, and had not gotten that far yet. I was thrilled to learn that I was wrong!
Henry named his great palace Nonsuch because no other palace could equal it. He built it to celebrate the birth of his son, Edward. He also wanted to outshine the beautiful Chambord, built by his rival,
King Francis I of France
. The King began construction on the site in 1538, in Cuddington, near Epsom, Surrey, and was still incomplete when he died in 1547. Sadly, it fell into disrepair in the 17th century, and now nothing remains of King Henry's great vision.
One thing that does remain of Nonsuch is a beautiful and rare watercolor depicting the palace. Here is the information I read in BBC News:
"The 1568 watercolour is said by
Christie's
to be the earliest and most detailed depiction of the palace.
Benjamin Peronnet, head of Old Master and 19th Century drawings at Christie's, said it was the most important depiction of the palace.
"Not only is it one of the earliest British watercolours and a work of art of immense beauty, but it is also the most exact pictorial record of Henry VIII's great commission," he said.
"Nonsuch Palace stood for less than 150 years and there are only four contemporary depictions that are known to survive.
"Of these, the watercolour is the earliest, and the only one to show a true impression of the 'lost' palace.""
It's such a shame to me that so many great palaces built centuries before our time are now faded away and only pictures or historical accounts remain. I would really have loved to see what Nonsuch looked like, especially since this was solely Henry's fanciful creation.